Tuesday April 15 AM: Isabela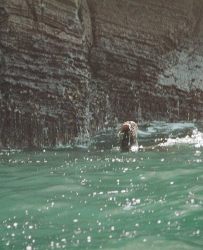 Sea Lion in cave with fish

The day began with a wake-up call at 0630 followed by a commentary about the geology of the area we're passing through (northern coast of Isabela - the largest island). Wolfe and Darwin volcanos are on the north part of Isabela.
Breakfast from 0800-0900 followed by panga rides at 0900. The ride was great and included going into a cave in the panga. We saw Galapagos Penguin, Flightless Cormorant, Wandering Tattler, Fur Seal, Mola-mola (some kind of fish), Sea Turtle. A high point was the Sea Lion in the cave eating a fish.
Volcan Ecuador

Cave Entrance

Waves hitting cliff

Flightless Cormorant

Panga at cave entrance;
Blue-footed boobies

Sea Lion in cave (can't see the fish here)

Sea Lion in cave

Marine Iguanas

Galapagos Penguin

Galapagos Penguin

Galapagos Penguin

Galapagos Penguin
Back on board and sailing for Fernandina. A slide show by Lynn at 1130 about her research and experiences camping on Volcan Alcedo.
King Neptune appeared as we crossed the equator(again - first time in daylight). Bottlenose Dolphins and a Bryde's Whale with calf were seen plus Elliot's Storm Petrel and Sea Lions. We had a large pod of Common Dolphins alongside the ship for quite a while and subsequently saw a Sperm Whale for several minutes.
| | | |
| --- | --- | --- |
| JT after an encounter with King Neptune | Common Dolphins | Common Dolphins |
Daily Expedition Report for April 15
On to April 15 PM (Fernandina)