Saturday, April 12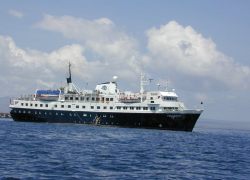 MS Polaris, Baltra Harbor

Having arrived at the Hilton Colon in Guayaquil the evening before, we were up at 0615(EST) to pack, etc. and a hurried breakfast. The coffee was strong (we needed it!) and there was wonderful fruit at the breakfast buffet. Took a TAME 727 to Baltra in the Galapagos and arrived on time - 0945 (we had lost another hour - time zone was like Mountain Daylight Time). Once we collected our luggage we were bused to the dock and then to the Polaris via panga (zodiac boats). Lunch on the Polaris was excellent and the people on board were nice. We had a lecture on Galapagos given by Lynn Fowler (expedition leader) followed by a panga ride to the Venecia Islets. Saw Great Blue Heron, Blue-footed Booby, Brown Pelican, Striated Heron, Magnificent Frigate Bird, Brown Noddy, Ruddy Turnstone, Least Sandpiper, Ground Finch species, Wedge-rumped Petrel. Our naturalist (Paula) ID'd the heron as a Lava Heron but extensive study of several bird books suggested it was probably a Striated Heron. Also saw a Black Tipped Shark, White Tipped Shark, Golden Ray, Spotted Ray and Land Iguanas (only ones we saw in the islands other than at the Research Station).
The Captains Welcome Aboard Cocktail hour was at 1900 followed by dinner. Grouper for dinner; very good.
Daphne Islands (en route from Baltra to Cerro Dragon).

Striated Heron.

This picture leaves a great deal to be desired, but it's the best and only of this bird.